I hear the Flowers whispering to the Colors with their mild scent wafting through the air, symbolizing a rather straitlaced demeanor

– Holier than thou. 
After all our festivals are replete with symbolism and rituals. Holi the festival of colors is no exception, as it signifies greyish winter coming to an end, heralding vividly colorful spring with a burst of blooms of different hues.
Typically Holi, as we know, is celebrated with dry or wet synthetic colors aided by water balloons and pichkaris.
Did you know traditionally the colors were made from flowers?
"Palash" or Flame of the forest was used to collect colored dust or "Abir" or "Gulaal" to play Holi. Somewhere down the line, we lost it to the Chemical laden synthetic colors. 
Did you know that at Bankey Bihari temple at Mathura Holi is celebrated with a shower of flowers on Ekadashi day that falls a few days prior to Holi?
It is "Phoolon ki Holi " celebrated with winsome flowers and petals of rose/marigold/lotus here that is an absolutely splendid sight to behold. 
Closer home we have Sloka, the Hyderabad Waldorf school founded 22 years ago celebrating Holi exactly this way as told by its Founder and Trustee Ms.Nirmala Diaz. She started celebrating Holi with the blooming beautifies when her son was a toddler and wanted to steer clear of the harmful effects of chemical-based colors. 
Ms.Nirmala Diaz added that though there are dry options and colors made from organic material, one needs an abundant amount of water to bathe, wash the clothes and clean the floor area stained with such colors. 
So they moved to flowers and petals from colors and composted the organic matter the next day. This practice is more than a decade old in their school and quietly continues to date. The change made a decade ago has indeed been a constant.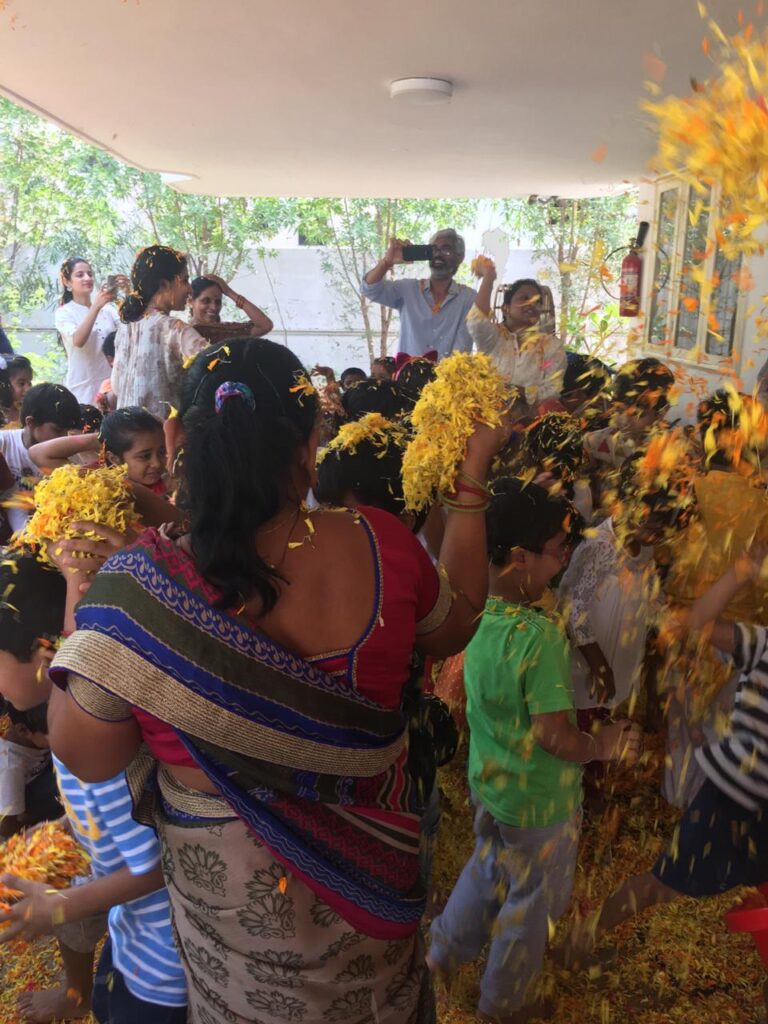 The above picture from Sloka Waldorf school, says it all.
Changes such as these are truly transformational and awe-inspiring apart from being absolutely worthy of one such flower shower. It contains pollution, conserves water, and also prevents health hazards from synthetic colors. How simple. As always the greatest thoughts and deeds are most often the simplest.
The very thought of flower showers devoid of hooligans with holi-guns is so pleasant and peace generating.
While flowers replacing colors seems ideal, it does call for certain courage of conviction that seems a little far fetched. And that's not all. There are other concerns that remain to be addressed such as :
Pollution from Holi bonfire
Wastage of wood
Water wastage
But Hold on. There are alternatives, best practices to fill in, till such a time a sustainable idea takes form, shape, gets ridiculed & judged before getting critical acclaim and eventually validated by replication!
Till then let us celebrate Holi in an eco-friendly manner with these Best Practices put together by Team Namma Ooru Foundation with contributions from :
Janani Venkitesh, Janani Jagan, Lavanya, Priya Ram, Nithya, Priyadarshini, Vidya Shankar, Viji Ganesh
Ration per capita water usage and penalize excess usage 
Insist on using wastewater from R.O to be used for playing Holi 
Residents in communities to pay for water usage
To apply oil on hair and sunscreens on the body to reduce the penetration of colors leading to less usage of water
To play dry Holi to save water
To use organic colors 
Use worn-out clothes if playing with water and colors that will require minimal water to wash
To avoid water balloons. Balloons take many years to decompose
To demarcate an area for playing Holi so that only that area needs to be cleaned
Encourage community bonfires instead of individual bonfires to control air pollution and reduce wastage of wood
Make every individual playing Holi to plant a Tree and nurture it
Avoid Rain Dance / Artificial rains that result in a huge amount of water wastage
So, make a choice that is sustainable and earth-friendly. Holi is in your hands.